It has been a long time since I have been able to put together 2 posts in one day but I got excited and had to.
This beautiful top and pose is available at The Fetish Fair and yeah it is a little risky for me normally but everything is covered.
The Pose is a release by WetCat, this comes with so many options for both couples and singles. The pose I am using is one of three of the single poses included.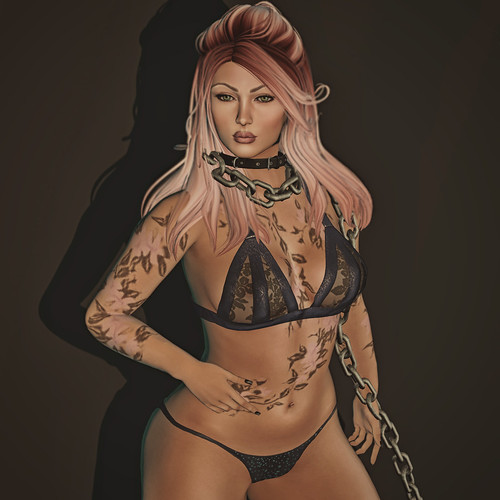 Mt top is from Aleutia its sexy and cute at the same time, 30 colour options on the main colour and 2 colour lace are available.
The tattoo you see me flaunting is available at The Avenue event from Pin Up, it comes in multiple levels of opacity so you can see which best suits you!
Thanks for reading hugs.
Pose- Wet Cat– Possession- Fetish Fair

Hand and Body Applier- Wow Skins– Faith Tan Catwa- Chapter Four
Body/Feet-Maitreya Lara
Hands- Vista Animations-Bento Pro Hands
Finger Nails- Dark Passions-Koffin Nails– Jewelled Ombre Solids- MBA Event
Hair-pr!tty– Hannah – {Medium Roots}- Chapter Four
Head-Catwa– Catya Bento
Eyes- Catwa Mesh Eyes
Top- Aleutia-Kiki- Fetish Fair
Pants- Blueberry– Show time Panties- Previous Arcade Gacha
Ring- CAE–Forever :: Three Stone
Tattoo- Pin Up– Cybele- The Avenue