Good Sunday Morning.
Lorena Red Remix is one a few new and updated releases this week from Enelya's creations, there is so many wear options with this cute lingerie set that you can't help but be happy. Here is a picture of the omega hud.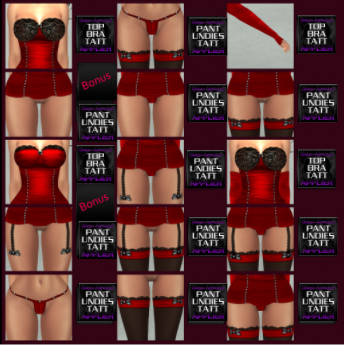 Evolove for me is about stunning poses, beauty and elegance come off in their releases. A photographers dream for sure! Very much like this pose. Windy moment has so many possibilities but for me it spoke out as being sensual and sexy enough to pull off this little lingerie set beautifully.
//embedr.flickr.com/assets/client-code.js
Pose by – EvoLove– Windy Moment
Head, Skin & Body Appliers- DS'ELLES– Rose Head- Anybody
Body, Feet & Hands-Maitreya Lara
Nails- DP – Koffin Nails – Maitreya – Pure Romance – Frosted
Hair- enVOGUE – Lauren Hair – GIFT Version
Head- Catwa– Jessica
Eye- Aveline– Midnight Blue
Lingerie- Enelyas Creations– Lorena Red Remix