//embedr.flickr.com/assets/client-code.js
Ho Ho Ho Sexy Ho is an exclusive available at the Naughty or Nice event that is open till the 15th December, 5 single poses available individually or as a pack.
Also available at the event is a couple exclusive, Naughty but Oh So Nice. A bit of naughty never harmed anyone!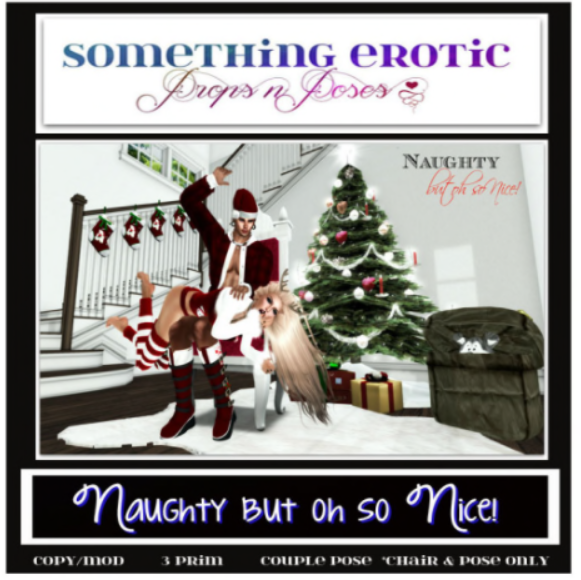 I absolutely adore this cute elf outfit from Flippant, a real fluffy hat and those curly toed elf boots at the bottom really do make this outfit Ho Ho Cute!
The beautiful pavilion and furniture in the background is all from one Gacha from Chez Moi, 3 rares and 8 commons really do make this set rather cute. A little hidey spot in the snow is great for everyone to escape to when the madness of the festivities kick in.
Poses- Something Erotic- Ho Ho Ho Sexy Ho(EXCLUSIVE)- Naughty or Nice Event (Closes 15th Dec)
What I am Wearing.
Head, Skin & Body Appliers-Lumae Niska – Amber- Bare
Body, Feet & Hands-Maitreya Lara
Nails-zoz Silver Leaf- The White Elephant Gacha
Hair- Lamb– Dust Bunny- The Arcade December 2015
Head- Catwa– Jessica
Eye- Aveline– Midnight Blue
Outfit Including Shoes and Hat- Flippant– Corseted Elf
Pavillion, Furniture,Frames and Signs- Chez Moi– Xmas Gacha
//embedr.flickr.com/assets/client-code.js